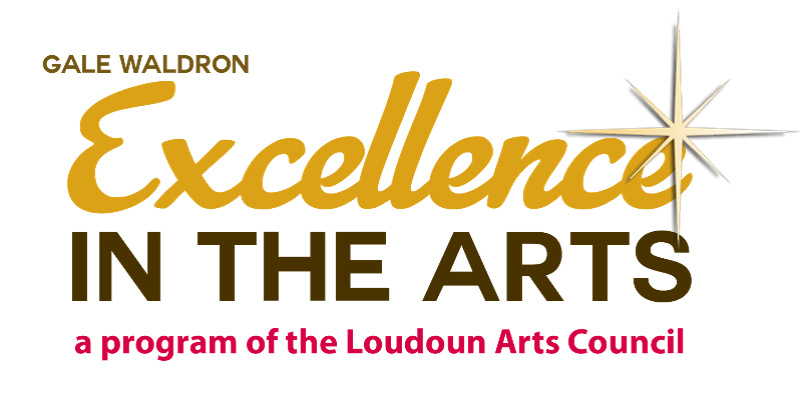 Note: The application period for the 2018 Gale Waldron Excellence in the Arts Competition has now closed. We look forward to seeing you at the Awards Reception and Arts Showcase on May 5 (see below for details).
All students participating should have received an email with details about submitting work for their categories. If you have not been notified, please contact the LAC immediately.
Visual, literary and performing artists in 10th through 12th grade are eligible to enter the Loudoun Arts Council's 18th Gale Waldron Excellence in the Arts awards program. The LAC has partnered with Franklin Park Arts Center, Round Hill Arts Center, and Stage Coach Theatre Company to revive this popular student awards program. The Loudoun Arts Council honors long-time arts supporter and former board member Gale Waldron by re-naming Excellence in the Arts program in her name. Waldron passed away on January 8th 2018.
Excellence recognizes outstanding artists in grades 10 through 12 for their accomplishment in the literary, visual, and digital arts, and in dance, piano, instrumental, voice, and theatre performance. Cash prizes will be awarded in each category.
General Information and Guidelines
All visual, digital, and literary arts entries must be dropped off March 8-11 between 10am and 2pm at the Round Hill Arts Center, located at 35246 Harry Byrd Highway (Route 7), Round Hill, VA 20141.
The auditions for the performance categories (Instrumental, Dance, Theatre, and Voice) will be held Monday, March 26, at the Franklin Park Arts Center, located at 36441 Blueridge View Lane, Purcellville, VA 20132.
Video submissions must be delivered to the Franklin Park Arts Center before March 26.
All competitors will be contacted by April 2, 2018 with their jury feedback and award status.
All students and families are invited to attend the Awards Reception and Arts Showcase on May 5, 2018, at 10am at StageCoach Theatre, located at 20937 Ashburn Road, Suites 115 and 120, Ashburn, VA 20147.
The Loudoun Arts Council promotes the arts in Loudoun County by advocating for and assisting arts organizations and individual artists. The LAC operates as the interface between artists, organizations, and arts supporters by providing information, education, research, and communication to benefit the arts community as a whole.
Sponsors are needed in each arts category. Contribute to your category of choice. Your sponsorship will also include a one-year supporting membership in the arts council for you or your organization, or a one-year extension of your current membership. Sponsors will also be thanked prominently in our printed materials, press releases, and at the awards reception in May.
Sponsor a Competition or an Individual Award or Donate Any Amount
To volunteer to help with the Excellence in the Arts awards program as a judge or in some other way, or to find out more about the many ways you can contribute, please email info@loudounarts.org.