August 28 - November 3, Monday - Friday, 9am - 5pm
Exhibit of Large Bed Quilts Made by Waterford Quilters Guild Members
Come see how art work can enliven a public space. Quilts displayed represent the work of many hands (Waterford Quilters Guild).
---
September 1 - November 30, Tuesdays through Sundays, Hours Vary
"Color Conversations" — Works by Turner Hilliker
Turner Hilliker is a designer and visual artist whose prints are layered with motif and meaning. The prints in "Color Conversations" allows the viewer to explore typographic narratives, storytelling without structure, and discover combinations of text and visuals across multiple mediums. His work explores the relationship between typography and imagery to convey the structures and narratives of conversations visually. Join Hilliker for a beverage on November 3rd at the Old Ox Tasting Room to learn more about the artist's motivations and process.
---
September 1 - November 30, Open Daily, 9am - 5pm
"Beauty in Chaos" — Works by Alynne Landers
Alynne Landers uses acrylics, watercolors, and polymer clay to bring her works to life. The paintings in the show, "Beauty in Chaos" are meant to reflect uncertainty in the world around us. Landers notes that "Even in chaos there is hope and beauty if we look for it... Beauty can be found everywhere, and I not only seek it out, but try to bring my own form of beauty to others through my artwork." Landers will be on hand on October 6th for a special First Friday event at the visitors' center, including refreshments and wine tastings from Winery 32.
---
September 6 - November 3, Monday - Friday, 9am - 5pm
Exhibit of Quilts Made by Priscilla Godfrey
The Loudoun Arts Advisory Committee presents 23 art quilts made by Priscilla Godfrey, quilt artist for more than 30 years.
---
September 9 - January 14, 10am - 5pm
The Horse in Ancient Greek Art Exhibition
This exhibition features Greek vases and sculpture from the 8th through the 4th centuries BCE, drawn from a private collection, the Virginia Museum of Fine Arts, and other museum collections. The exhibition and accompanying publication explore the significance of the horse in ancient Greek culture, the superb horsemanship skills of the ancient Greeks, and imagery of the horse in ancient myth, war, sport, and competition. From some of the earliest examples of the horse in Greek art, to stunning examples of black and red-figured vases, the objects on view illustrate ancient equestrian life.
---
November 1 - 30, Wednesday - Saturday 10am - 8pm, Sunday - Tuesday noon-6 pm
Art Show & Reception — 2300 Degrees of Icy Abandon
The Arts in the Village Gallery presents a mixed media exhibition, 2300 Degrees of Icy Abandon, featuring the works of digital artist Samantha Marshall and glass artist Aimee Johns. The exhibit is on display through November, with a special Artists' Reception on November 18 from 4 to 7pm. Live music entertainment by Chris Hankins, upscale beverage and food tastings provided by Delirium Café, and desserts by Red Velvet Cupcakery are sure to make this one event you won't forget! See you at the reception!
---
Friday, November 3, 6 - 9pm
Leeburg's First Friday — Artists Reception
Meet painter Pattee Hipschen and potter Carrie Althouse. Pattee says "Trees have been the primary focus of my paintings for the last several years. I like their repetitive shapes — the leaves, the trunks, the branches as well as the reflections they make on the ground and in the water. I continue the idea of repetition to the canvas, painting in multiples — triptychs and diptychs. I capture my subjects with and without leaves, in different seasons and at various times of day. I paint in oil, with a pretty vivid palette, on both canvas and wood panels." Carrie says "I am artistically inspired by hiking tall mountains, paddle boarding crystal blue lakes, climbing textured rocks, camping under soft pine groves and skiing the curved face of mountains. I am in love with the smells, sights and sounds of nature."
---
Friday, November 3, 7 - 9pm
Artist's Reception — "Color Conversations" — Turner Hilliker
Turner Hilliker's prints are infused with raucous color and layered with motif and meaning. His work will be on exhibit at Old Ox tasting room for the months of September, October and November. Come meet the artist and learn about his motivations and process AND enjoy delicious beverages!
---
Saturday, November 4, 7:30pm
Loudoun Symphony presents We're Traveling Abroad
Dr. D'Alimonte has prepared a sumptuous concert that takes us through travels of sound composed by great 19th century European masters. Concert includes St. Paul Overture by Mendelssohn and the Tchaikovsky Symphony No. 2 "Little Russian." Our search committee has chosen Dr. D'Alimonte as one of three finalists for the LSO conductor position. Attend the concert and tell us what you think. Should Maestra D'Alimonte become the LSO's next conductor?
---
Sunday, November 5, 2 - 4pm
Sunday Sketch at NLSM
Join us for a free sketching session in the museum galleries! Supplies will be provided for attendees. This week's featured artist is Barbara Sharp, an accomplished local artist. The program is open to all ages. Participants under the age of 18 must be accompanied by an adult. Pre-registration is encouraged.
---
Friday, November 10, 5 - 7pm
LAC Arts Mixer at North Gate Vineyard
Join the LAC at North Gate Vineyards for the first in a series of Arts Mixers! Meet other artists, art lovers, and members of arts organizations. Collaborate and talk about hopes, plans, and dreams for the arts in Loudoun County. What do you want to see happen? A performing arts venue? More exhibit opportunities? Bring a friend and enjoy award-winning North Gate wines and yummy snacks at this special event!
---
November 10 (7:30pm), November 11 (7:30pm), November 12 (2pm), November 16 (7:30pm), November 17 (7:30pm), and November 18 (2pm)
Shakespeare's "Twelfth Night"
It's January 6th in the Roaring Twenties. What could possibly go wrong? Find out in William Shakespeare's holiday comedy, "Twelfth Night," where the epiphany reveals more than the average love triangle. Parental guidance recommended — not suitable for audience members under age 13.
---
November 10 (8pm), November 11 (8pm), November 12 (2pm), November 17 (8pm), November 18 (8pm), and November 19 (2pm)
The "Impossible Dream" Comes Alive on the Sterling Playmakers Stage
Inspired by Miguel Cervantes' Don Quixote, Man of La Mancha is one of the all-time great musicals of the American stage. Taking place in a dungeon, it is a powerful, hilarious, and heartbreaking story performed by Cervantes and his fellow prisoners as he awaits a hearing with the Spanish Inquisition. The Tony Award winning Best Musical tells the story of a dying old man who refuses to relinquish his ideals or his passion. His "Impossible Dream" takes over in his mind as he becomes Don Quixote de la Mancha. His enduring quest for peace, attempt to avoid his mortal enemy, The Enchanter, and pursuit of the lady of his dreams, Dulcinea. The celebrated music includes "The Impossible Dream," "Man of La Mancha," "I Really Like Him," "Little Bird," "To Each His Dulcinea," and "What Does He Want of Me" which will remain in your thoughts and soul well after you see the show. November 11 performance will be sign interpreted by HISsign. Show rated PG-13 for violence and some language.
---
November 11 (3pm & 8pm), November 12 (3pm), and November 18 (8pm)
Loudoun Lyric Opera presents "The Tragedy of Madame Butterfly"
A jewel box adaptation of Puccini's "Madama Butterfly" specially arranged by Helen Gregory and Gary Race. Featuring the beloved main characters, famous arias, and ensembles in an intimate setting. Sung in English.
---
November 11 - 12, 10am - 6pm
7th Annual Catoctin Holiday Art Tour
Please join us for holiday shopping in scenic Loudoun County! Join nearly two dozen artists in their Lovettsville area studios on November 11 and 12 for the seventh annual Catoctin Holiday Art Tour: a weekend of beautiful scenery, friendly folks, and local art. This relaxing driving tour leads visitors down some of western Loudoun's prettiest country roads, to homes and studios in the thriving artists' community of Lovettsville. Visitors meet the artists where they work and have the opportunity to buy affordable art and gifts in advance of the holiday shopping rush. Many studios feature food and wine from local businesses as well. Small enough to do in an afternoon, with art of a caliber to merit a day trip from DC.
---
November 18 & November 19, 12pm, 2pm, 4pm
Children's Series Nutcracker
Introduce your young child to the performing arts with our Children's Series Nutcracker! Launched in 2010-2011 as part of our mission to bring art into our community, our Children's Series Nutcracker is a condensed version of the popular holiday classic. This magical production with stunning costumes and beautiful choreography is perfect for toddlers and preschoolers as well as their families. Children delight in the approximately 40-minute performance followed by a short question and answer session and memorable photographs with dancers. Invite your friends and bring your camera for after the show!
---
Saturday, November 18, 10 - 11:30am
Coffee with the Curator at NSLM
Join us for an informal coffee reception and special tour of our latest exhibition, The Horse in Ancient Greek Art. $5 admission, free to NSLM members. This program is generously sponsored by Middleburg Common Grounds. Please RSVP to Anne Marie Barnes, the Clarice & Robert H. Smith Educator, ABarnest@NationalSporting.org, 540-687-6542 ext. 25
---
November 19, December 17, January 21, and May 6, 5 - 7pm
Concert Series — "Music at Belmont" — First Concert
This opening concert features Jeremy Filsell, Artist in Residence at the National Cathedral, Erik Wm. Suter, former organist at the National Cathedral, and Chuyoung Suter, Coordinator of Piano Studies at the National Cathedral, in a program not to be missed. All are critically acclaimed and the music will be inspiring! Tickets limited to 400.
---
November 24 - 25 and December 1 - 2, Matinee and Evening Performances at 1:30pm and 7:30pm
Loudoun Centre Theatre presents "A Christmas Carol"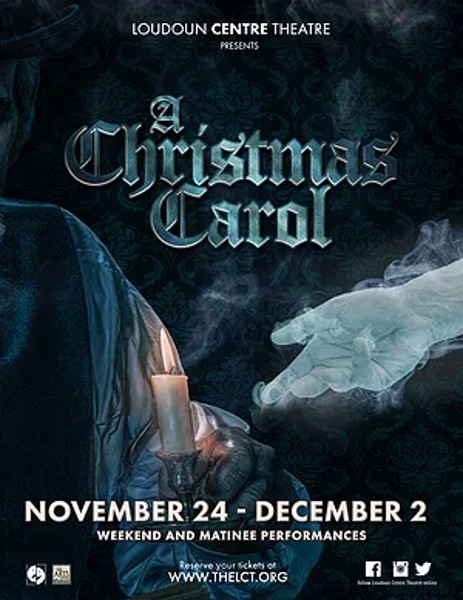 Back for a third year. The Ghosts remind the stingy mercenary, Ebenezer Scrooge, that 'mankind should be his business' …a haunting reminder to everyone. Dicken's carol of redemption seeks to reclaim Scrooge's heart and in its song, elevates us all. A classic told how only LCT can do it. Sure to become a family tradition for many years to come. Merry Christmas!
---
November 25 (2pm and 7:30pm), November 26 (2pm)
Classical Ballet Theatre's Nutcracker
The Classical Ballet Theatre of Northern Virginia performs this perennial holiday favorite with a beautiful production that includes all the costumes, scenery, and magic to bring Clara's dream to life. Choreography by Nell Hacker, Meghan Rudorfer, Cynthia Donavin, and Kathy Beyer. Join Clara on her magical journey with her Nutcracker Prince to the Kingdom of Sweets, where she is greeted by the majestic Snow Queen, the whimsical Mother Ginger, the exquisite Sugar Plum Fairy, and other enchanted dancing characters in the Kingdom — all after a fun and mischief-filled holiday party with her family and an epic battle between the Mouse King and the Nutcracker after everyone goes to bed. Our festive production is a local favorite of many and we have sold-out performances every year. Remember to purchase your tickets early for the best seats available! Join us for this wonderful holiday tradition!
---
Saturday, December 2, 7:30pm
Toys for Tots Celebration
The Loudoun Symphonic Winds announces the holiday season with its annual Toys for Tots concert! Please join us for an evening filled with audience participation activities and the opportunity for you to be a performer! All collected toys will be distributed by the Marine Toys For Tots foundation and distributed to those needy children in Loudoun County.