After Virginia Governor Ralph Northam issued a stay-at-home order for the Commonwealth until June 10, hundreds of arts events and classes were cancelled or postponed. But some moved to an online platform in an effort to keep serving the community. Arts events present a welcome activity for kids home from school and adults working from home.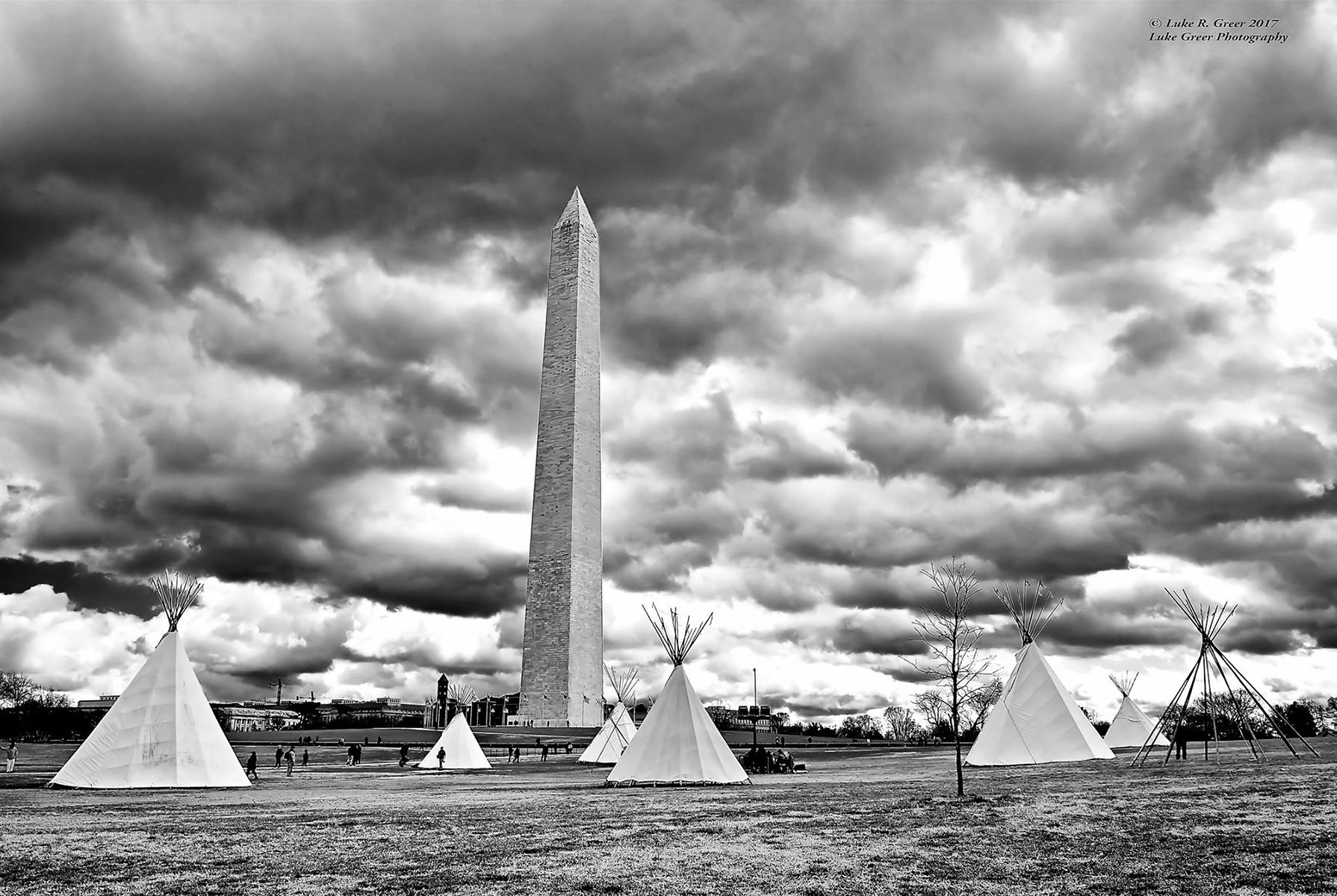 "Sioux Tipi Camp, Washington Monument, Washington DC", by Luke Greer, part of the "No Frame Required" virtual exhibit presented by Purcellville's Franklin Park Arts Center
At Loudoun's Franklin Park Arts Center in Purcellville, where the stage and physical gallery spaces are closed, a virtual art show is taking place. "No Frame Required" includes nearly 100 works by more than two dozen area artists. The digital nature of this Parks, Recreation & Community Service exhibit also means that almost any media can be displayed, despite size. FPAC is also hosting "Start Lunch with the Arts" via their Facebook page. Every day at noon artists of all kinds present a short tutorial, talk, or performance available to the public. Similarly, the Arts Center's Sunday Coffeehouse presentations have also moved online. Learn more about these programs on their website.
Purcellville's usually-busy Shamrock Music Shoppe is quiet, but Shamrock's teachers are still working with their students weekly online, teaching Guitar (Classical, Acoustic, Electric, Bass), Drums, Percussion/Bell Kit, Piano, Cello, Fiddle, Violin, Viola, Mandolin, Ukulele, Saxophone (Alto & Tenor), Clarinet, Voice, Songwriting, Music Theory, and more for kids, teens, and adults. Interested in learning to play? Call Scott Kinney at (540) 333-2271 to learn more.
In Leesburg, local artists are offering digital classes in an era when folks are stuck at home and ready to try something new. At the Clay and Metal Loft in the Virginia Village Shopping Center, Amy Manson has organized a schedule of online tutorials, complete with online payment and scheduled times for curbside pick up of the supplies for each project. Classes in jewelry-making, clay, and painting as well as kids classes and paint-your-own pottery kits are offered. A May 2 oil painting class led by local artist Suzanne Lago Arthur will also be held virtually. Get details about their full list of classes here.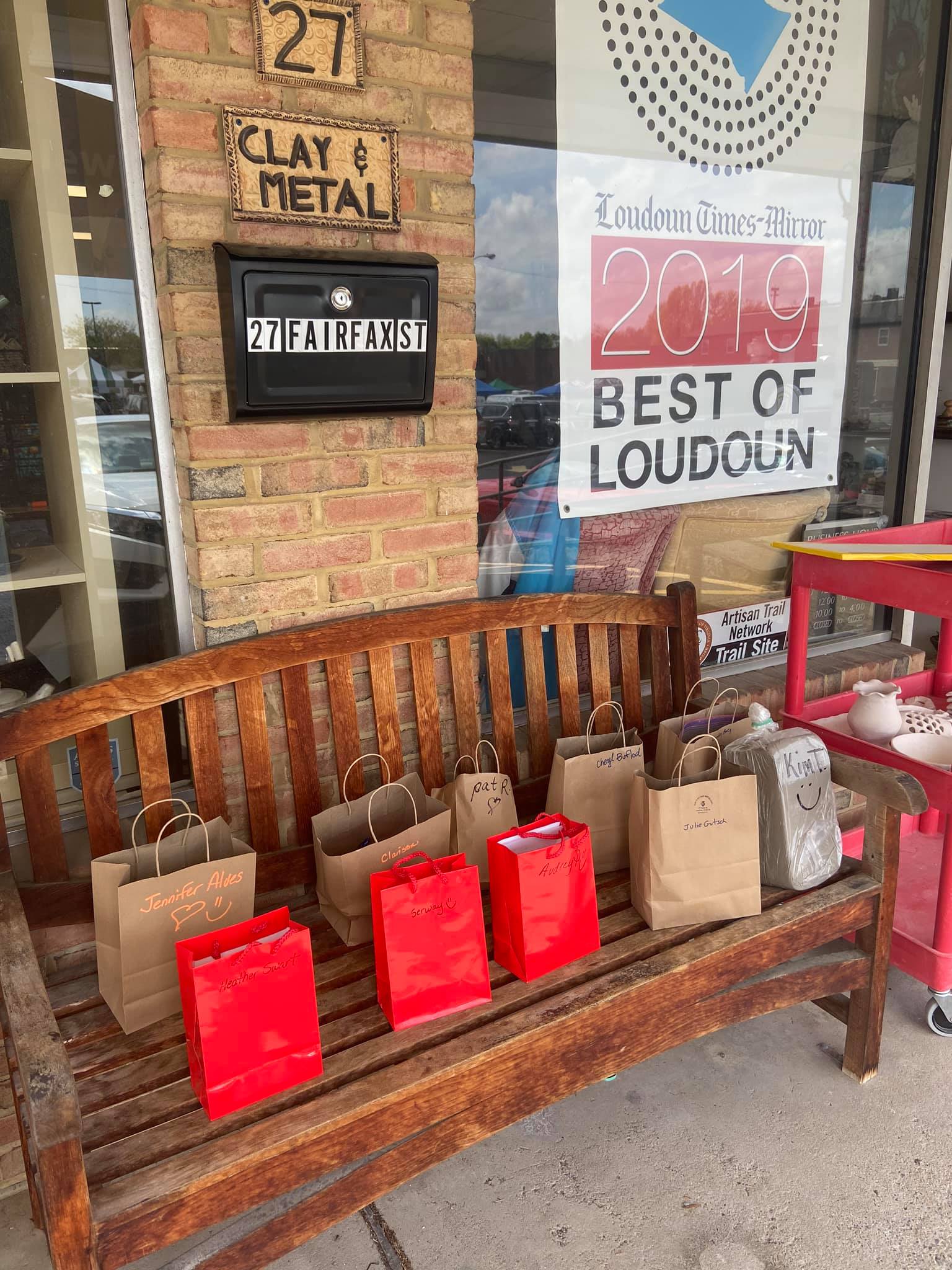 Art supplies ready for pickup at the Clay and Metal Loft in Leesburg
Downtown on Royal Street, artists Kaeley and Rusty Boyle at the Fine Gallery have moved their classes online in a private format. Boyle offers classes in portraiture, painting, drawing, and exploring virtual image-making. Book a session here.
South of Leesburg off Route 15, the picturesque Greenhouse studio at Oatlands is closed for the time being, but through its partnership with painter Walter Bartman's Yellow Barn Studio, the studio is offering virtual art classes. There are over 60 classes taught by local artists, offered forn all levels of painting and drawing, for both teens and adults. Bartman points out that due to the now-virtual format, classes can now be taken by virtually anyone, anywhere. Look at detailed listings here.
Nationally, it is estimated that 80% of artists are currently out of work. Many have pivoted from their traditional teaching and performance venues, and have quickly mastered video presentation. Audiences can help. Look for your favorite artists online and see what they have created while staying at home.
Do you know of more virtual arts events or classes? Loudoun Arts would love to feature them! Contact us at info@loudounarts.org.