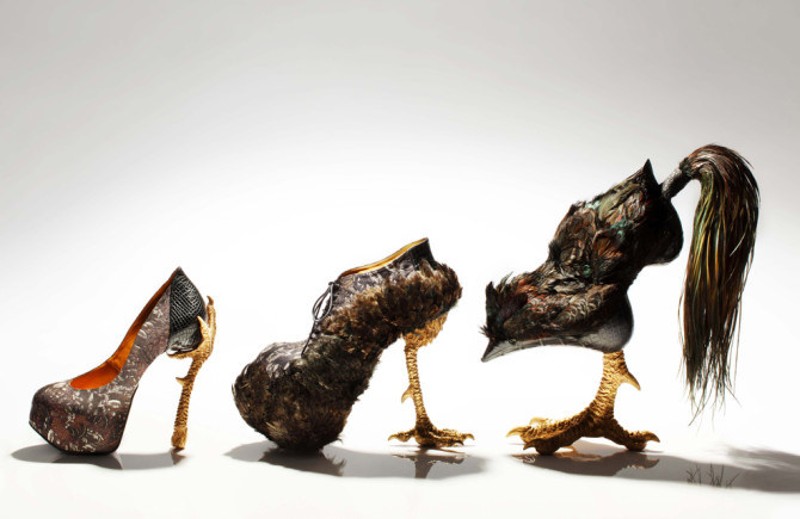 Example of "Agricouture": Rooster Shoe
Artists, fashion designers, students and craftspeople are encouraged to create proposals for the Farm to Fashion Project, a public art project sponsored by the Friends of Franklin Park Arts Center, Loudoun Economic Development, and the Loudoun Arts Council. The project goal is to display creative "Agricouture" projects made from materials provided by local agriculture businesses. F2F will be a fabulous showcase of the County's rich and diverse arts and agriculture sectors.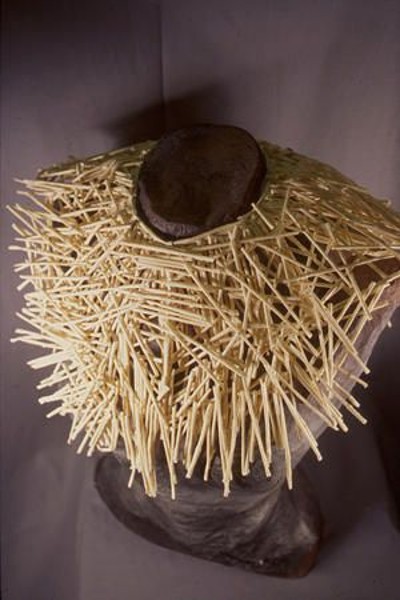 Example of "Agricouture": Straw Collar
In Farm to Fashion, the Loudoun Arts and Agricultural communities come together to examine the intersection of "culture" and "agriculture" in a public art project. Artists and craftspeople of all ages are invited to create "fashion" artworks for the exhibit. See examples of "fashion" art pieces on this page for reference.
Create your own proposal to "dress" one of our scarecrow mannequins in some way. You can create anything — from hats to socks, from gowns to jewelry, using items involved in Loudoun agriculture. Materials could include fabric row covers, tomato stakes, bird netting, grapevine cuttings, feathers, horsehair, raw wool, produce, baling twine — even fresh produce.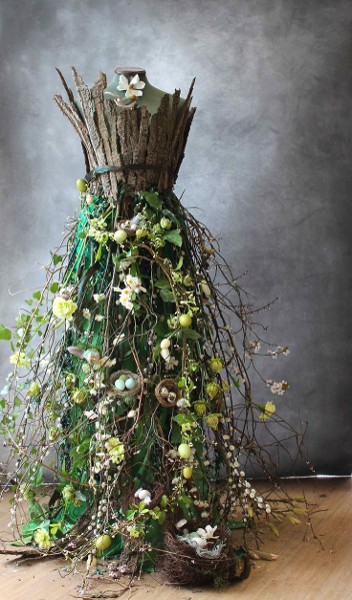 Example of "Agricouture": Vine Dress Anything involved in local agriculture can become an artist's material in this unique creative challenge. Farmers will donate items, but artists can also source their own materials from Loudoun farms.
Submit a brief project proposal and a sketch or photo using the online form on the Loudoun Arts Council website by midnight, May 31st. Projects will be accepted on the basis of exhibit space limitations and selected artists notified by June 5th. Projects will be on display at Franklin Park Arts Center during the month of October 2017, including during the Fall Farm Tour on October 21st and 22nd (Franklin Park will be a stop on the tour this year).
The F2F Reception and Awards Event will be held on Saturday October 28th, and the public is invited. Cash prizes will be awarded for both Student and Adult categories for "Most Creative," "Most Agricultural," and "Most Fashionable" projects, and winners will also receive a gift of selected Loudoun Farm Products.
Timeline:

2/22
Announcement
2/22 - 5/31
Submit Proposals Online
5/31
Proposal Submission Deadline
6/5
Artists Informed of Selection
6/5 - 9/25
Artists Develop Their Works
9/26-29
Works Installed at Franklin Park Arts Center
9/30
Exhibit Opens
10/25
Jury Evaluates Works for Prizes
10/28
Reception and Awards Event for Artists and Public
10/29
Exhibit Closes
11/1
Outdoor Sculptures Installed at Sponsoring Venues

The F2F Logo
Submission Specifications:
Entries must represent the concept of "fashion," in some way (i.e., clothing and garments, jewelry, headgear, etc).

Artists must use Loudoun farm products, tools, or materials in creating their "fashions" (for example: feathers, wool, horn, cornhusks, leather, grapevine, fencing, etc).

Works will be displayed on fencepost scarerows provided by Franklin Park unless the artist has another proposal.

Applicants must submit at least one sketch of their "Farm to Fashion" item and a written proposal for their display in order to participate. Applications will be online on the Loudoun Arts Council website (see below). If you cannot submit your application electronically, please contact Elizabeth Bracey at Elizabeth.Bracey@loudoun.gov. NOTE: These submissions will be displayed as part of the final exhibit.

Applicants must pay a $20 entry fee online or by mail by May 31st, 2017. Payments by check should be made out and mailed to FoPAC, P.O. Box 2127, Purcellville, VA 20134.

Entry fees may be waived for students for whom it is an obstacle to participating. Contact Elizabeth.Bracey@loudoun.gov for details.

The Loudoun Arts Council will accept submissions on their website until midnight May 31st, 2017. Artists will be notified of their acceptance by June 5th, 2017.

As part of the project artists' sketches and original concept proposals will be displayed in the FPAC gallery during the exhibit to demonstrate the creative process as part of the LAC's mission for public education. All submissions will be reviewed for inclusion in the show — proposals will be accepted based on artistic merit and available exhibit space.

Selected entries that are weather-resistant will be displayed with the artist's permission at sponsoring agricultural locations around the county for the month of November 2017.

Artists can specify work as for sale or not for sale.
Awards Criteria:
Creativity

Best use of agricultural products

Best representation of "Fashion"
Judges will award prizes for adults in the following categories: Most Creative, Most Agricultural, and Most Fashionable. Each adult award winner will receive a $100 cash prize plus a selection of Loudoun Grown, Loudoun Made products. Judges will also award prizes for students in the following categories: Most Creative, Most Agricultural, and Most Fashionable. Each student award winner will receive a $50 cash prize plus a selection of Loudoun Grown, Loudoun Made products.
Available Materials for Artist Use
A list of available materials and participating farm locations is available from Loudoun Economic Development. Questions? contact Cassie Walls at Cassie.Walls@loudoun.gov for more information.

Artists can also suggest their own ideas for agricultural materials, and can use materials acquired through any Loudoun farm or agricultural business.

Anything used on a farm can be used for this project — but please avoid media that has bugs!
Questions?
Contact Jill Evans-Kavaldjian at info@loudounarts.org
OR Elizabeth Bracey at Elizabeth.Bracey@loudoun.gov
OR call 540-338-7973.