The Loudoun Arts Council (LAC) and Loudoun County Public Schools (LCPS) are collaborating on an initiative for local visual artists to visit classrooms during the 2014-2015 school year. The Visiting Artists program will demonstrate that art isn't in the past or confined to textbooks, but that is happening here and now, and continuously evolving. Visiting artists will share their experience with art as a career or as a creative journey, and engage students in the process. Besides collaborating with art teachers to enrich the LCPS arts curriculum, participating artists will be able to practice speaking about their work and methods and refine their presentation skills.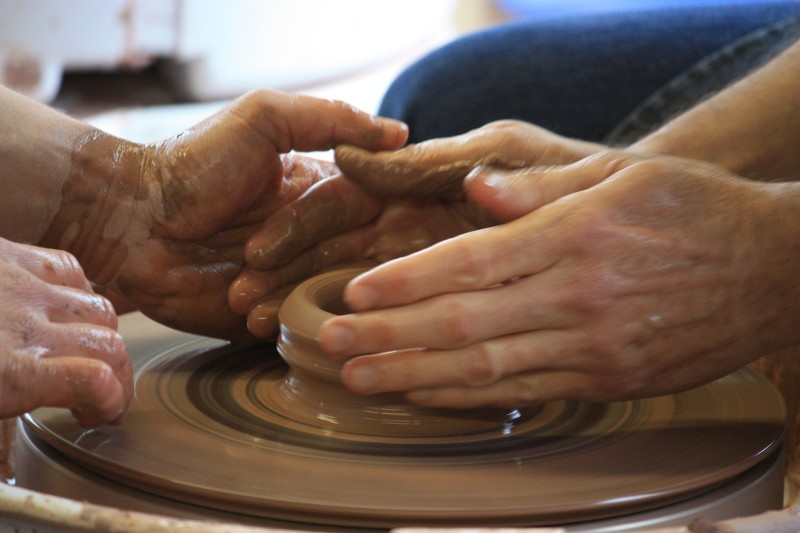 Throwing pottery on the wheel
In a recent survey, Loudoun's art teachers said they would welcome visits from local artists in any media; several mentioned interest in ceramics, mixed media, animation and fiber arts presentations, as well as painting, drawing, photography, graphic design, video production and paper sculpture and bookmaking. Teachers showed special interest in "hands-on" demonstrations and interactive activities. More than 60 local artists have applied for this new initiative. In August, LAC will follow up with those likely to match well with the teachers' interests. Visits will be scheduled through LCPS throughout the 2014/2015 school year with all tools and supplies for classroom activities during the visit will be provided by the schools.
The Call for Artists for the 2015/2016 school year will start in Spring 2015. Email info@loudounarts.org for more information about this exciting program.