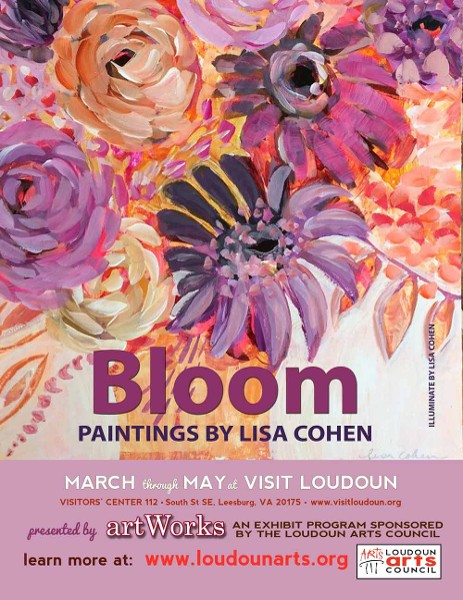 "Bloom," by Lisa Cohen, on exhibit March through May at Visit Loudoun's Visitor Center
"Bloom" is artist Lisa Cohen's celebration of flowers and the beauty, joy, and of life that they bring to our lives. Ethereal blooms are transformed into everlasting bouquets that will never wilt. "Painting these florals with bold colors and fresh brushstrokes is my way of staying mindful and creating some art alchemy." says Cohen. "Bloom" is on exhibit March through May 2017 at Visit Loudoun, 112-G South Street SE, Leesburg. Lisa Cohen is a painter specializing in vibrant acrylics and oils in a modern, expressionist style. She believes inspiration is available in abundance if we allow ourselves to remain open to it. Lisa infuses her work with joy, layers of color, and texture so that her artwork brings forth a sense of dimension, playfulness, and, hopefully, a smile. She hopes viewers will rest their gaze upon her art and dwell in a realm of possibilities.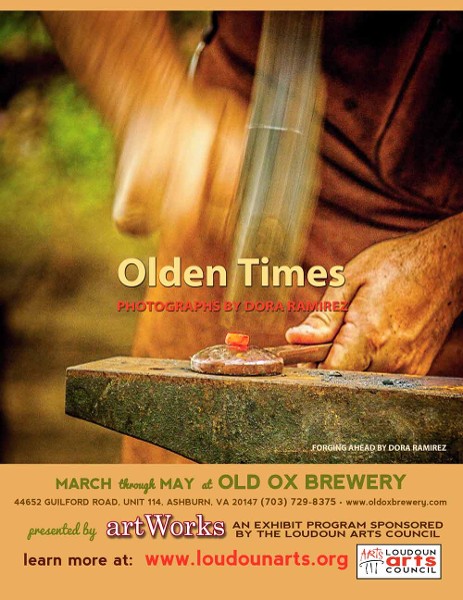 "Olden Times," by Dora Ramirez, on exhibit March through May at Old Ox Brewery
In "Olden Times" fine art photographer Dora Ramirez presents scenes of everyday life of bygone times and encourages viewers to contemplate the legacy of bygone eras. "I love contemporary life but I'm intrigued by the bygone world and the legacy it left us." says Ramirez. She encourages viewers to take a minute, take their time, and get lost in each and every one of the scenes. "Think about how it must have been to live during those bygone times. And then, take a deep breath and appreciate the past, the present, and look forward to the future … so that we can better understand where we are and where we are headed." "Olden Times" is on exhibit March through May, 2017 at Old Ox Brewery, 44652 Guilford Dr #114, Ashburn, VA 20147. Dora Ramirez lives in Northern Virginia and founded GerDora Photography with her husband Gerry D'Onofrio. Her interests include the natural world as well as traditional and contemporary themes reflecting different points of view. Join Dora at the Brewery on April 7 at 7 pm for a scecila Artist's Reception. Learn more about her insiprations and process... and taste some of Old Ox's new works of art — and current LAC members get discounts on their beer!