The winter artWorks exhibits at Old Ox Brewery and the Visit Loudoun Visitors' Center couldn't look more different.
Laura Hopkins' landscapes reflect "Earth & Sky" Painter Laura Hopkins' work in "Earth & Sky" focuses on expressing the mood and enduring beauty of quiet rural scenes in the atmospheric, soft light of twilight and dawn. Expansive skies are often reflected in water. Her representational work, at Visit Loudoun through February, is strongly influenced by the work of the American Tonalists, whose moody landscapes employed subtle color harmonies and an intimate focus to suggest the poetic beauty of the farmland and marshes of coastal New England.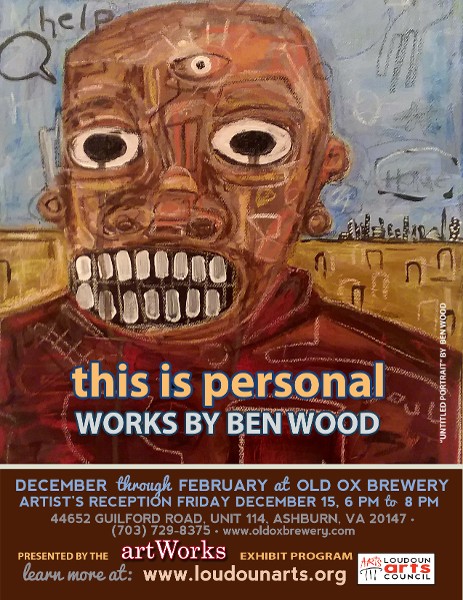 Ben Wood's bold work is deeply personal Ben Wood's lively graphic canvases in the "This Is Personal" show at Old Ox Brewery works combine expressive brushwork and intentionally simplified forms with cartoon elements. His vibrantly colored, crudely painted and occasionally disturbing works to tell a wide range of personal and observational stories. Acrylic paints, oil sticks, chalk pastels, ink, spray paint and crayons are his go to tools. The work fits in well with Old Ox's hip funky vibe.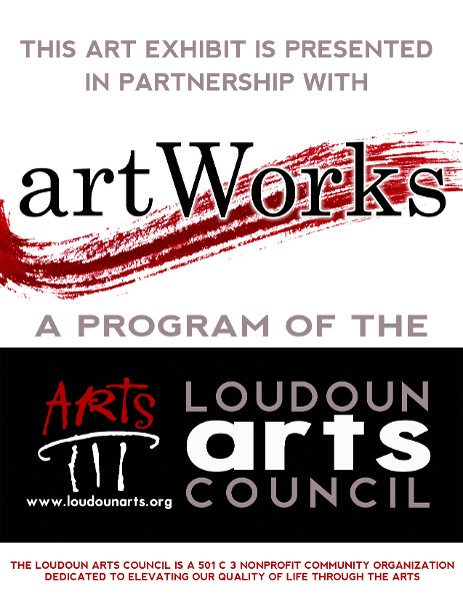 artWorks is an exhibit program of the Loudoun Arts Council Though their works look very different, both of these artists are self-taught. Most of Wood's training comes from time spent helping other artists. He attributes his success to hard work, a lot of luck and a big dose of pure stubbornness. Hopkins is also a self-taught artist, having never attended art school. She spent much of 2016 in online classes with contemporary tonalist Deborah Paris, at the Landscape Atelier, in Clarksville, Texas. She currently studies with internationally renowned contemporary tonalist Dennis Sheehan, in Manchester, New Hampshire.
Both exhibits will be on display from December 8 through the end of February. Meet Ben Wood at the "This Is Personal" Reception at Old Ox Brewery on Friday December 15 from 7 to 9pm. Old Ox Brewery is located at 44652 Guilford Drive, Unit 114, Ashburn, VA 20147 and is open Tuesdays through Sundays. Hours vary, visit www.oldoxbrewery.com for details.
Laura Hopkins' "Earth and Sky" Reception will be held during Leesburg's First Friday events on Friday, February 2 from 6 to 8pm. The Visitors' Center is located at 112 South Street SE, Leesburg, VA 20175 and is open 9 to 5 daily.
The artWorks exhibit program is designed to bring local artwork into Loudoun's popular venues. To join the program, or learn more, visit our artWorks page.