The LAC's artWorks program will feature the work of two accomplished Loudoun artists this summer. Christine Dixon will bring her colorful still life paintings to the Visit Loudoun Vistors' Center in Leesburg, while photographer Samantha Marshall's arresting digital images will adorn the walls of the Old Ox Brewery Tasting Room.
Marshall's work in the show "if walls could talk..." is based on photographs she alters digitally for effect. Her images have a breathtaking sense of imagery and staging. The exhibit will be up at Old Ox Brewery at 44652 Guilford Dr #114, in Ashburn June through August. The Tasting Room is open Tuesdays through Sundays; check www.oldoxbrewery.com for details. Meet Samantha at a special Artist's Reception on Friday June 16 at 7 pm.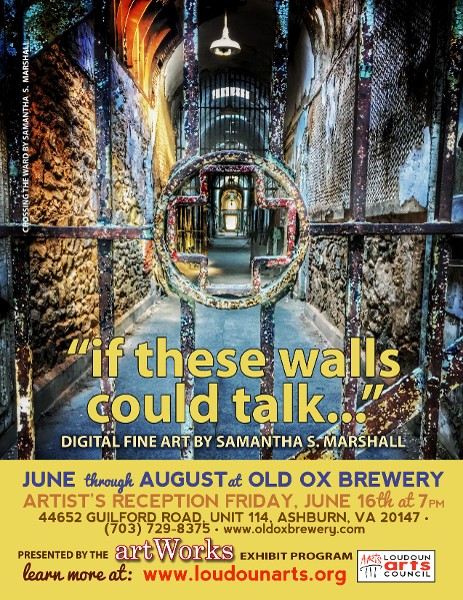 Image: Crossing the Ward by Samantha Marshall
Dixon's intimate treatment of everyday objects is the focus of "The Little Things In Life," at the Visit Loudoun Visitors' Center at 112 South St SE, Leesburg, VA 20175. Seemingly quiet subjects speak loudly with Dixon's expressive brushwork. The Visitors' Center is open from 9 am to 5 pm daily,and is oopen late during Leesburg's First Fridays with refreshments -- stop by Friday June 2, Friday, July 7, or Friday, August 4 to see these beautiful small works.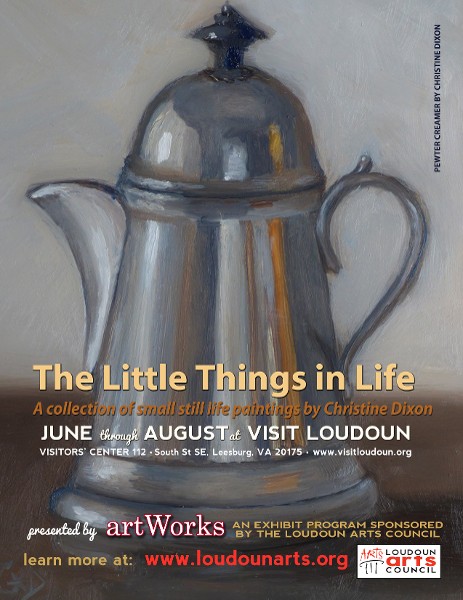 Image: Pewter Creamer, by Christine Dixon
Over the past two years the artWorks program has launched several art exhibits at area venues, each curated for the individual space. These shows and accompanying Artist's Receptions have resulted in new connections between artists and patrons, as well as art sales. Patrons can buy art on the spot using the LAC's new tagging system, which uses QR codes. Purchasers can pay for art using their smart phones, show the receipt to staff, and take their artwork home. "It's important to make the art purchase as easy as possible for patrons," says LAC President Jill Evans-Kavaldjian. Interested in learning more about becoming an artWorks artist or venue? Visit our artWorks page.

The artWorks Exhibit Program matches local venues with local artists.