Jim Sisley's paintings focus on simple daily experiences that we all "see" but seldom stop to deeply consider. A resident of Loudoun County and Leesburg, VA since 1994,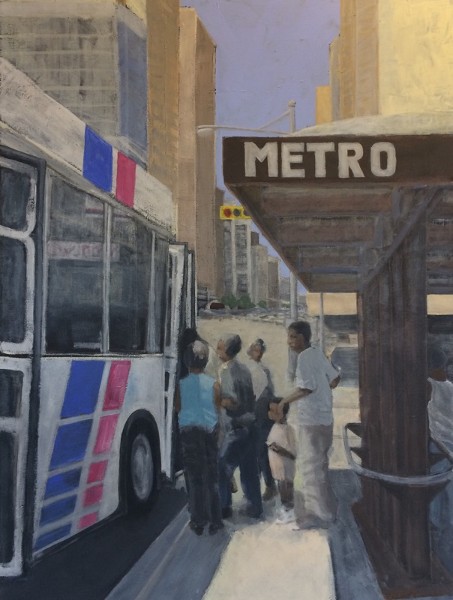 Metro, by Jim Sisley Jim began art lessons as a child in San Antonio, TX and started painting in earnest while attending the Glassell Studio School at the Houston Museum of Fine Art in 1985. Now Sisley brings his work to the LAC's latest artWorks exhibit to Old Ox Brewery in Ashburn. Jeff Zielinski, Old Ox Tasting Room Manager, appreciates the bold nature of Sisley's canvases. "They really pop," says Zielinski of the large-format works.
Sisley's representational paintings work to depict the power imbalance in relationships. He also has a series of large-format abstract paintings he started in 2005. These paintings rely on a loose and improvisational painting style in an attempt to elicit an emotional response from viewers. Sisley's work will be on display in the tasting room through February 2017. Meet the artist at a special Artist's Reception at the Brewery on Friday, January 6 at 7 pm.
Old Ox Brewery is located at 44652 Guilford Dr #114, Ashburn, VA 20147