Loudoun sculptor and teacher Brian Kirk has taken his metal work in a new direction, using time, water and oxygen to tell a different set of stories through fascinating rust prints. Equal parts art and physics experiment, the images have ghostly quality that is unpredictable and moving. Arts Council President Jill Evans-Kavaldjian is happy to present the unconventional show. "Experimentation is a key part of the artistic experience," she says. "It's important to understand that for every successful result, the artist has failed many times."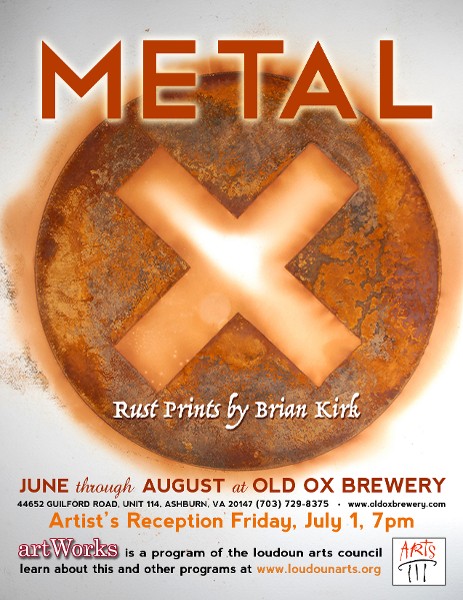 Brian Kirk Presents a Series of Rust Prints at Old Ox Brewery Old Ox Brewery has been the pilot location for the LAC's artWorks program, which is designed to pair local artists with popular venues, almost like a dating service. LAC Board members are working on creating an online system to bring the two groups together. One of their innovations is a labeling system that enables customers to buy art with a smart phone and take it with them. Evans-Kavaldjian expects the new matchmaking system to be up and running in the next few months, just in time to celebrate the LAC's 30th anniversary in 2017. Learn more about the artWorks program on our website.
"METAL" will be on display at Old Ox Brewery from June 8 through the end of August. Meet the artist at a special Artist's Reception at the Brewery on July 1, 7 pm - 9 pm. Old Ox Brewery is located at 44652 Guilford Dr, #114, Ashburn, VA. Learn more about Old Ox at www.oldoxbrewery.com.