Loudoun Arts Council members, prospective members, and the public are invited to the 2017 Annual Members' Meeting of the Loudoun Arts Council, to be held at Sterling Library at 6:30pm on Tuesday, October 3rd.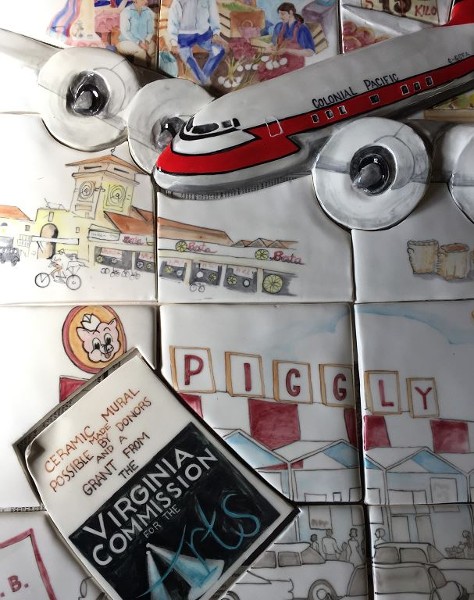 Tiles for "Journeys to Sterling," by Joan Gardiner As we celebrate our 30th year in Loudoun County with refreshments, we will get a special sneak peek at Journeys to Sterling — a special tile installation at the library created by renowned local artist Joan Gardiner. Gardiner's piece was created with funding campaign that included contributions from many in Loudoun County and beyond. This work honors those who came from around the world to create the vibrant Sterling community. We'll also discuss the changing role the LAC can play in supporting and promoting the arts. We want to hear your ideas!
After the refreshments and presentation, we will have our annual business meeting including:
The President's Report on current and proposed LAC projects,
The Treasurer's Report on our current financial condition and outlook,
An update on the status of the LAC's Arts in the Village Gallery program, and
Nominations and voting for new board members.
We hope you can attend and help us chart a course for the future. Let's have 30 more productive years! Sterling Library is located in Sterling Plaza in the heart of Sterling. The street address is 22330 South Sterling Boulevard, Unit A117, Sterling, VA 20164 (directions). We look forward to seeing you!
If you'd like to join the arts council or need to renew your membership, visit loudounarts.org/join for all the details.
Questions? Email us at info@loudounarts.org.