Sterling artist Octavia Frazier's bold abstract compositions are directly connected to her years of work as an interior designer; her bold use of color and the different textures used are a delight for the eyes. The latest artWorks exhibit, sponsored jointly by the Loudoun Arts Council and Old Ox Brewery features Frazier's large format works through the end of February. Old Ox tasting room Manager Jeff Zielinski says the work's energy is a perfect fit for the brewery. "I love the color," says Zielinski. Loudoun Arts Council President Jill Evans-Kavaldjian says the new exhibit is a great example of how the artWorks program can help local artists and local businesses. "Exhibits curated for each individual venue are a win-win for both artists and businesses," she says.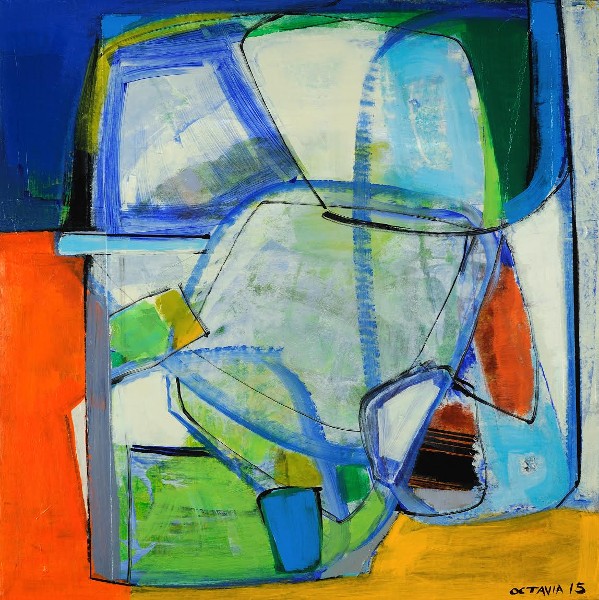 Colorful mixed media work by Octavia Frazier
Born in Weiden, Germany to an American military father and a German-Yugoslavian mother, Octavia has lived in many different parts of the world. During her years in Paris, France she developed a deep appreciation and love for art, and it was there that she won her first art competition at age 12. She has since won many more awards and has exhibited her works throughout the DC metro area. Members of the public are invited to meet Octavia and sample the wares of Old Ox — craft brewed beer — at an Artist's Reception on Friday, December 11 at 7:30 pm. The exhibit will run through March 6, 2016.
Artists and businesses interested in joining the program should contact the LAC at info@loudounarts.org to learn more. Old Ox Brewery is located at 44652 Guilford Drive #114, Ashburn, VA. Learn more about the brewery at www.oldoxbrewery.com.