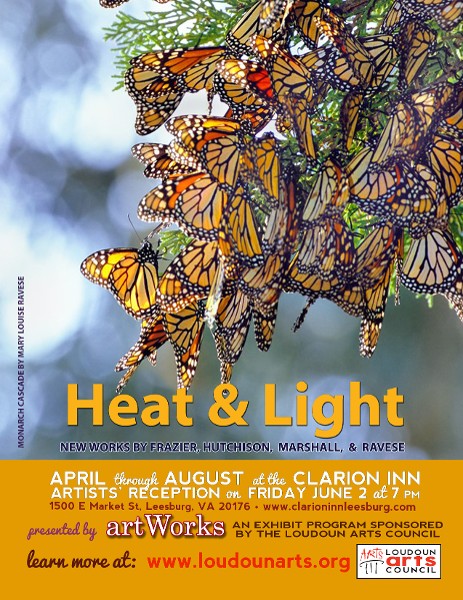 Image: Monarch Cascade, by Mary Louise Ravese
Four local artists are part of Heat and Light, a new summer exhibit at the Clarion Inn in Leesburg. Photographers Mary Louise Ravese and Samantha Marshall and Painters Octavia Frazier and Karen Hutchison display work with palpable energy for this inaugural show at the Clarion Inn.
The inn's lounge has undergone an extensive renovation, and the exhibit program is the final touch on the open airy space. Brenda Page, the Loudoun Arts Council's artWorks coordinator is thrilled that the exhibit program is expanding. "The artWorks program is a great way to get local artists work out and appreciated by the public," she says. "At the same time, the venues get rotating shows of art that suit their spaces," she adds.
The Clarion Inn is located at 1500 East Market Street, on the eastern end of Leesburg, Virginia. The lounge is open nightly. A reception with the artists will be held Friday, June 2nd, at 7:00 pm. Please join us!