The Loudoun Arts Council and the PHILLIPS Programs for Children and Families will present photography, paintings, and a selection of fine craft, for a special fundraising exhibit to be hosted at Salamander Resort in Middleburg, Virginia, from October 26th through November 7th, the date of PHILLIPS' Hunt Country Harvest Ball.

PHILLIPS Programs for Children and Families
PHILLIPS is a private non-profit organization serving the complex needs of children and youth living with cognitive and emotional challenges in the greater Washington DC area. The organization provides specialized education and community programs for these at-risk children. The Loudoun Arts Council has supported Loudoun's visual, literary, and performing artists since 1986 with the goal of elevating the lives of all community members. The council is a volunteer-run organization offering a wide range of programs for artists, businesses, and art enthusiasts.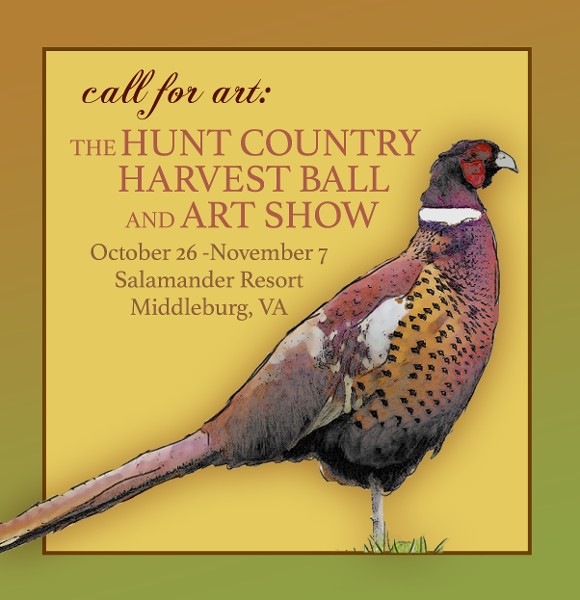 Hunt Country Harvest Ball and Art Show
The Hunt Country Harvest Ball has been organized to bring together individuals and community partners to raise funds for and awareness of two PHILLIPS programs: "Building Futures ~ Loudoun" and "Family Partners". The event's theme is "Wear Your Wild Things." Attendees are encouraged to dress creatively and will enjoy dancing to the music of the HRH orchestra band, a gourmet four course dinner with open bar, and the Art Sale featuring the work of artists from Loudoun and Fauquier Counties. PHILLIPS will be inviting their extensive network of supporters throughout D.C. and Virginia to attend, and will be promoting the event to the public through advertisements in the local media.
The Loudoun Arts Council is coordinating the call for art for Loudoun artists. PHILLIPS will retain 30% of the proceeds of all art sales, and artists will receive 70% of the sales price as part of the fundraising effort.
Selected work will be on display for sale in the public areas of the Salamander Resort from October 26th through November 6th, and will then join the complete display in and around the Salamander Ballroom for the evening of the Ball. Artwork will be sold by PHILLIPS staff and Loudoun Arts Council volunteers. Artists and guests may purchase tickets to attend the event.
Artists must apply for the exhibit by October 1st, and will be notified of jury decisions by October 10th. The application fee is $20 for Loudoun Arts Council members and $25 for non-members. Artists may submit up to three works to be juried.
Exhibit Details and Instructions
Please note that the deadline for entry has passed. Applications are no longer being accepted. Thank you.
1. Any 2-D artist living or working in Loudoun County may apply.
2. Artists must register and pay the $20 (LAC member) or $25 (non-member) entry fee by October 1st, 2015.
3. Each artist may submit digital images of no more than three works to be considered by the jury. Each high-quality JPEG or PNG format image should be at least 1000 pixels along the shortest dimension, and should be emailed separately with the title of the work, the medium, approximate dimensions, and the sales price for the piece. Images should be sent to info@loudounarts.org with the subject line "Harvest Ball Art Show Jury Submission". If you are not sure how to achieve this, please contact us at info@loudounarts.org for assistance WELL BEFORE the deadline date of October 1st.
4. Works will be selected for their aesthetic excellence. Maximum dimensions 32" x 32" and no more than 20 pounds. Artists will be notified of jury decisions by October 10th, 2015.
5. Accepted artists must have all works ready to hang with screw eyes and wire upon delivery. Work without wires will not be accepted in the exhibit — no exceptions. Please label the back of each piece with your name, and the title, medium, and price of the piece.
6. Selected artwork must be delivered to the Business Center at Salamander Resort (500 North Pendleton Street, Middleburg, VA 20117) for hanging on Monday, October 26th, between 11:00am and 3:00pm. Unsold artwork must be picked up at the Salamander Ballroom between 9:00am and 12:00pm on Sunday, November 8th. Artists are solely responsible for the transportation and insurance of their work. Salamander Resort, PHILLIPS, and the Loudoun Arts Council will make all reasonable efforts to secure work delivered for the show, however artists participating in the show agree to hold Salamander Resort, PHILLIPS, and the Loudoun Arts Council harmless in the event of loss or damage.
7. Artists will be paid 70% of the sales price by check from the Loudoun Arts Council by December 6th, 2015.
Questions? Please contact us at info@loudounarts.org or 571-577-9367.