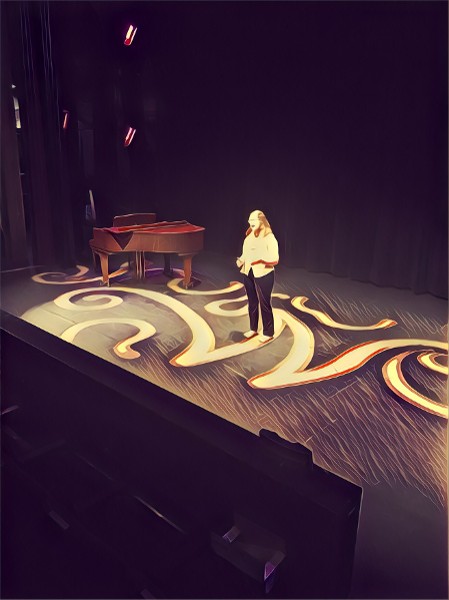 Auditions were held at Franklin Park Arts Center on March 26, 2018
After a ten-year hiatus, the Loudoun Arts Council has revived its Excellence in the Arts awards program for teens in the visual, literary, and performing arts. Students in grades 10 to 12 competed in this year's program, culminating in a lively day of auditions at Franklin Park Arts Center. Emerging artists in dance and theatre took the stage, as well as vocal and instrumental musicians. Literary and visual artists also submitted work for evaluation. Visual arts entries were displayed at Round Hill Arts Center during the month of March for judging. The winning pieces are now on exhibit at StageCoach Theatre in Ashburn through May 5th.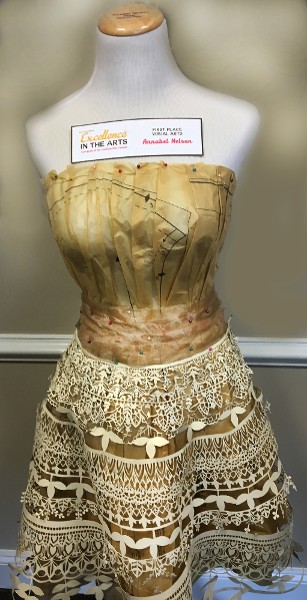 "Pin-Up," mixed-media sculpture by 1st Place Visual Arts award-winner Annabel Nelson
Named after the late arts advocate Gale Waldron, the Excellence program recognizes outstanding youth achievement in the arts, and was accomplished in partnership with the Friends of Franklin Park Arts Center, Round Hill Arts Center, Piedmont Arts Foundation, StageCoach Theater, and dozens of individual arts supporters, from Loudoun County and beyond. This year's applicants included several homeschooled students as well as youth from 12 area public and private schools. "The first year of getting a program off the ground is the hardest," according to LAC President Jill Evans-Kavaldjian. "You spend most of your energy just getting the word out," she says. Evans-Kavaldjian is happy with the response from contestants and community. "I'm so grateful for everyone who helped," she says.
LAC Vice President (and former President) Heather Stillings spearheaded the effort to revive the arts awards program, first launched in the 1990s, and seems pleased with this year's competition. "It's so great to offer these talented young people help with their work at a time in their lives when it's so important," she says. "Next year will be even better."
The public is invited to StageCoach for a free Excellence showcase and reception on May 5th, where the winners will present a selection of their work. The reception will start at 11am. Winners will then present their musical and dramatic selections, as well as poetry readings and the screening of an original video. Excellence winners will also receive their cash awards from the LAC — $5,750 in total.
StageCoach Theatre is located at 20937 Ashburn Road, Ashburn, VA 20147.
The 2018 Gale Waldron Excellence in the Arts Award-Winners:
Dance
1st: Kara Heidorn
2nd: Arran Ponté
Digital Imaging
1st: Jeremiah Morrison
2nd: Ronan York
Honorable Mention: Paravi Das
Instrumental Music
1st: Nicole Fetterman
2nd: Allison Lane
Literary Art
1st: Caitlin Blake
2nd: Georgia Orphanides
Theatre
1st: Katherine Markle
2nd: Noah Hamadé
Honorable Mention: Anna Kasun
Visual Art
1st: Annabel Nelson
2nd: Sejung Kim
Honorable Mention: Jeremiah Morrison
Vocal Music
1st: Paravi Das
2nd: Noah Hamadé
Honorable Mention: Mikayla Connolly and Katherine Markle