The Loudoun Arts Council is expanding its community exhibit program. The artWorks program brings local artists and businesses together through quarterly art shows in vibrant gathering places throughout the County.

The artWorks Logo The artWorks program is designed to offer opportunities for established and emerging artists to exhibit their work. The non-profit LAC acts as promoter, liaison, and coordinator to partner local visual artists with venues. According to artWorks Coordinator Brenda Page, the committee hopes to launch exhibits in new venues in the spring of 2017. "We're excited to expand the program, and this is just the beginning," says Page.
Display in our Pilot Venue, the Tasting Room at Old Ox Brewery
Over the past 18 months the artWorks program has launched six exhibits at the Old Ox Brewery Tasting Room that were curated for the space. Each show and accompanying Artist's Reception has resulted in new connections between artists and patrons, as well as art sales. Patrons can buy art on the spot using the LAC's new tagging system, which uses QR codes. Purchasers can pay for art using their smart phones, show the receipt to staff, and take their artwork home. "It's important to make the art purchase as easy as possible for patrons," says LAC President Jill Evans-Kavaldjian.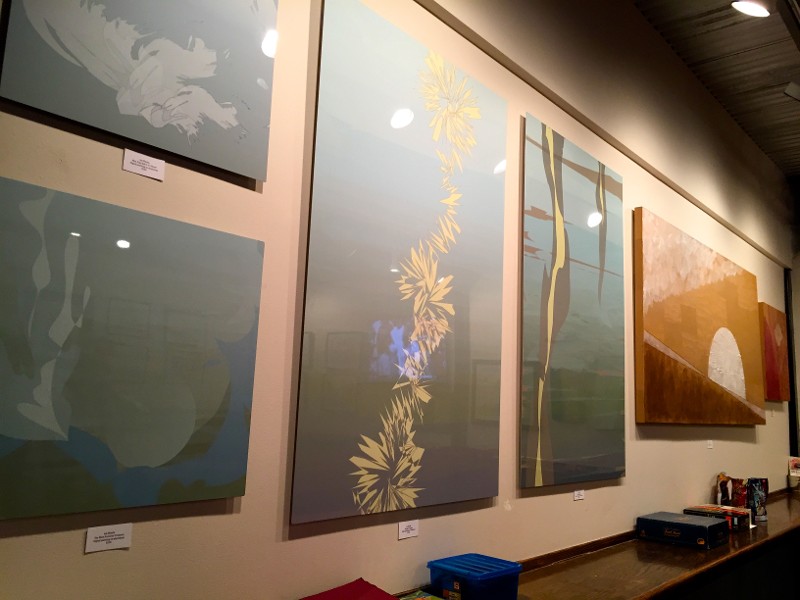 Works by Jan Blacka at Old Ox
Chris Burns, president of Old Ox Brewery, says that artWorks exhibits have brought "a new dimension to our tasting room.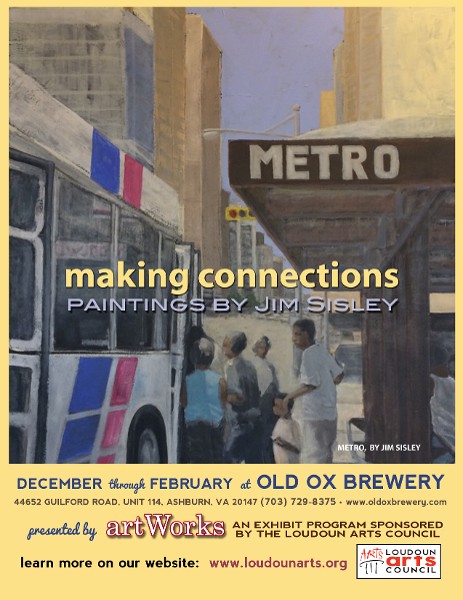 Poster for the Making Connections Exhibit at Old Ox They give our customers a way to connect with each other as they experience the art. Supporting local artists is one way of giving back to the community which has been so supportive of our business." Instead of investing in a permanent collection, venues can enjoy changing quarterly shows of art.
Everyone is invited to attend the next artWorks Artist's Reception at Old Ox Brewery for "Making Connections, Paintings by Jim Sisley," on Friday, January 6 at 7 pm. Old Ox Brewery is located at 44652 Guilford Dr #114, Ashburn, VA 20147. [Editor's note: For information about the latest artWorks shows, please check for fresh press releases on our home page, or sign up for our Happenings email newsletter.]
Artists and venues who are LAC members can apply for the program using an easy online form. To learn more about the program, or to apply, visit http://www.loudounarts.org/programs/artWorks on our website.